Second session of the seminar Écritures Numériques et Éditorialisation - Hervé Le Crosnier and Guylaine Beaudry
Edit article
University of Montréal
Pavillon Lionel-Groulx - Hall C-2059
11.30 am - 1.30 pm - 15 décembre 2016
Recorded session
From edition to editorialisation. Being publisher in the digital environment)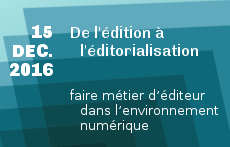 How has digital environment changed the publisher work? Which is the place of the editorialisation work in the publishing profession? To what extent is this work the object of outsourcing and delegation - ahead (knowledge engineers, ontologies construction...) and afterwards (search engine, hosts, broadcaster, annotators, and readers)?
Speakers:
Hervé Le Crosnier
, multimedia publisher at
C&F
publishing, teaching researcher at
University of Caen
, former library curator ;
Guylaine Beaudry
,
Concordia Library
head curator,
Érudit
former executive chief and Concordia new digital press creator.
Session recording available on the Archive.org
Chair account
.