Fourth session of the seminar Digital Textualities and Editorialization - Being journalist in the digital environment
Edit article
University of Montréal
Local B4310, Building 3200 Jean Brillant
Special time : 12.30 pm - 2.30 pm - 16th Mars 2017
Recorded session
Being journalist in digital environment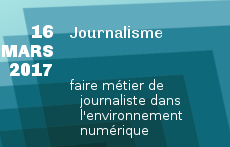 Since the very first newspaper publications online in the late 90s, medias have adapted themselves to the new media scene. Their arrival on the Internet and on the Web is marked by several major evolutions, as such as the new writing forms (hypertext, video, webdocumentary, microblogging) coming with the emerging practices of information consumption. More significant, phenomena like newspapers Google indexing, Google News editorialization, and, since 2010, their massive circulation, more and more fragmented through social networks or, more recently, their integration and personalization in the Facebook newsfeed have defined a new environment, redistributing power balances and authority, that used to be held by newspaper. The actual controverse about fake-news and fact-checking websites is, in this capacity, revealing a crise of editorialization, that this seminar session aim to interrogate, examining the different strategies implemented by different actors to negotiate this transition.
Participants :
Montréal :
Juliette De Maeyer
, adjoint professor for the Communication department of the
University of Montréal
;
Paris :
Denis Teyssou
,
Agence France-Presse
.
The CRC uses
Internet Archive
as media archiving system. IA freely offers his collections to researchers and academics The IA indexation robot is a free software, as well as his books scanning software.