Fifth session of the seminar Digital Textualities and Editorialization - Editorialization on Archive
Edit article
University of Montréal
Tuesday 6th April 2017, 11:30am-1:30pm
Building Lionel-Groulx, local C-3061
Recorded session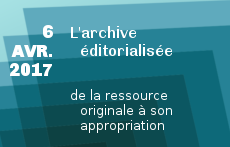 Short presentation by a guest in Paris and you, followed by Q&A.
Voir la séance en direct.
Participants :
Montréal :
Jeffrey Schnapp
 is the founder/faculty director of
metaLAB (at) Harvard
and faculty co-director of the
Berkman Center for Internet and Society
.
Paris :
Antoine Courtin
, is research engineer at the
Institut national d'histoire de l'art (INHA)
, in charge of the
Cellule d'ingénierie documentaire
for the
département des études et de la recherche
.
The CRC uses
Internet Archive
as media archiving system. IA freely offers his collections to researchers and academics The IA indexation robot is a free software, as well as his books scanning software.