Fabrice Marcoux
Edit lead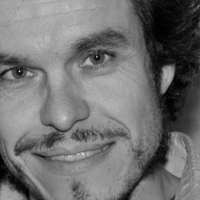 After studying Communications, completing a Bachelor of Arts with Honors in Philosophy and researching theories of Critical Judgment in Aesthetics, Fabrice completed a Certificate in Digital Information Management at EBSI. He puts into practise his academic interests as Webmaster and communications manager within a number of different organizations.
He was assistant for the seminar "Écritures numériques et éditorialisation" (2013-2015). He is also affiliated with the research group on theories of digital literature (ThéoLiNum) and the Canada Research Chair on Digital Textualities. These collaborations relate heavily to his interest in the transformation of editorial practices and the evolution of publishing platforms.
Having recently completed a thesis, which establishes links between Doueihi's digital humanism and McLuhan's media ecology, he is currently an independent digital publishing consultant for Fabrix Livres, a service primarily devoted to the transmission of knowledge and cultures. He is the author of the book chapter "The eBook and the ePub Format," published in the Digital Publishing Practices handbook, edited by Marcello Vitali-Rosati and Michael E. Sinatra.